四川航空培训中心宾馆简介 Sichuan Airlines Training Center Hotel Profile

四川航空培训中心宾馆坐落于高新西区新文路1号,总建筑面积约18500平方米,地上11层地下1层。集餐饮、住宿、会议、运动休闲功能为一体。宾馆为四川航空培训中心配套服务保障部门,主要为参训的飞行学员和乘务学员提供优质、完善的后勤保障服务。配套服务功能:洗衣房、咖啡厅、超市、空勤餐厅、学员餐厅、健身房、台球室、乒乓球室、篮球场和网球场,宾馆共有三人间、双人间、单人间221间,555个床位。餐厅可同时接待500人就餐。宾馆管理团队由一批具有星级酒店管理和服务经验的专业人员组成,为参训学员提供:"安全、周到、优质、快捷、温馨"的服务。宾馆前台电话:028-67896000 传真:028-67896100

Sichuan Airlines Training Center Hotel is located in 1#, Xinwen Road, West High Tech. District of Chengdu, with an area of 18,500 square meters.The hotel has 11 layers above and 1 layerunderground,integrating with accommodation, catering, conference, sports and leisure functions. The hotel is one of the service and logistical support Dept. for Sichuan Airlines Training Center ,mainly provides high quality and excellent logistical service for the trainees of pilots and cabin attendants.The Supporting services consist of :Laundry, CAFE, supermarket,flight restaurant, trainee restaurant, Gym , billiard room, table tennis room, basketball court and tennis court.There are triple rooms ,double rooms and single rooms with 555 beds,221 rooms altogether. The restaurant can accommodate 500 people dining at the same time.The managment crew of Sichuan Airlines Training Center Hotel is consisted of professionals with rich experience of Stars-rated hotel management and quality service,constantly provides the service of "Safety,Thoughtfulness, Excellence,Shortcut, Wormth" for the trainees. To Contact us:028-67896000 Fax:028-67896100

.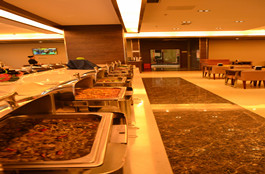 餐厅 咖啡厅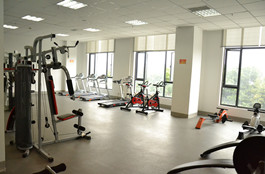 客房 健身房